New Moral Order™
NMO™ POSTS
Know Your Rights!
KNOW YOUR RIGHTS! posts are information rich images that are designed to be shared on social media and online, covering all the most important facts and knowledge regarding your sovereign and universal Human Rights.
International Bioethics and Human Rights laws were designed to protect your Individual Human Rights, not your collective 'civil rights', which are lawfully and morally inferior to UNIVERSAL and thereby unalienable Human Rights.
If a law discriminates in any way between one human individual and another, it cannot morally or lawfully be regarded in respect to Human Rights.
Human Rights can only refer to each and every individual, equally, without prejudice or preference.
KNOW YOUR RIGHTS!
RSS Feed
New Moral Order™ RSS Feed
Right click and copy to your custom RSS news feed app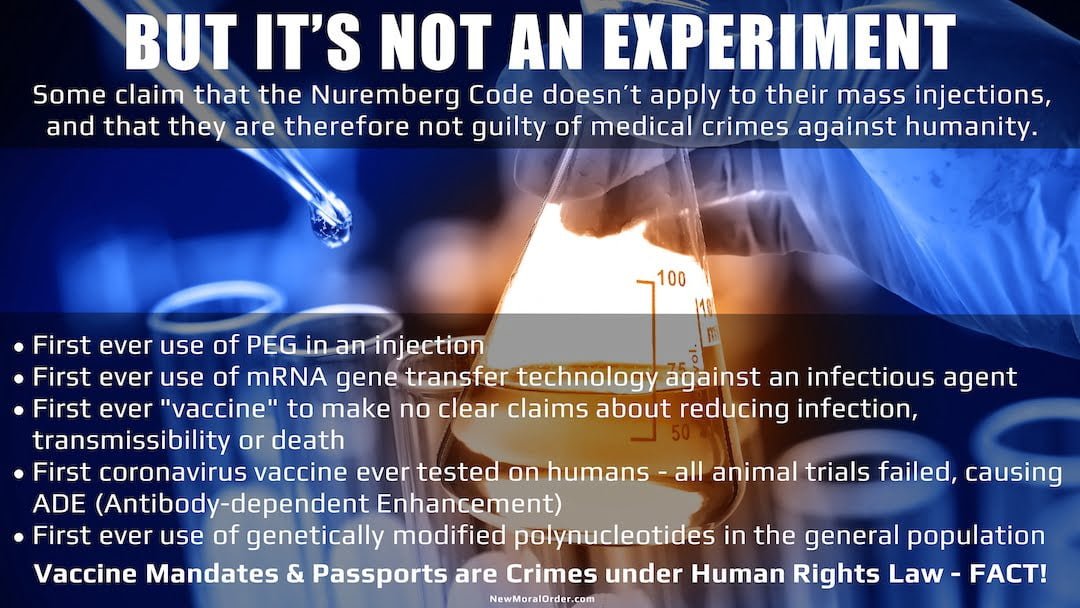 Share to Social Media:New Moral Order™ NUREMBERG 2™• Did you know that civil rights (group rights) are always subservient to Human Rights? • Did you know that Human Rights can only ever relate to the individual - equally and without prejudice or favour? • Did you know that there has been a concerted effort over the last 80 years to remove your Human Rights via the invention and promotion of such things as 'collective rights' (civil rights) and the legalised discrimination against people based on the colour of their skin, their gender, or their religious beliefs, known as 'positive discrimination' and 'affirmative action'? If you didn't, that's because you've been socially conditioned since birth to see everything in an inverted, false way. 99%+ of politicians, academics and media commentators are no less ignorant about Human Rights. That's why New Moral Order™ sees its aim to educate everyone on the truth about Human Rights as being a pivotal...
KNOW YOUR RIGHTS!
RSS Feed
New Moral Order™ RSS Feed
Right click and copy to your custom RSS news feed app
VISIT THE
'POST CATEGORY RSS'
PAGE